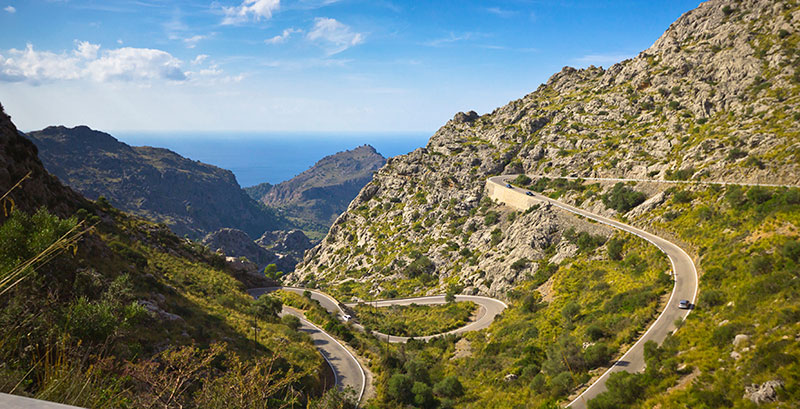 At Mallorca Taxi Service, we are committed to take you to every last corner of Mallorca, so that you may learn about its stories and peculiarities. What does it matter whether we go by bus, coach, taxi or car, when it comes to getting to smell and touch paradise for as long as your long-awaited holiday lasts.
At Mallorca Taxi Service, we will help you!
Time and numbers are relative. For example, Kim Basinger and Mickey Rourke lived in an idyll that lasted nine and a half weeks; 400 is how many famous blows François Truffaut made Antoine Doinel take in the Nouvelle Vague; while 500 is how many days Joseph Gordon Levitt waited for Summer with nothing to show for it.
The numbers come close, but none of them can match the 800 curves that you must travel before you reach paradise: Sa Calobra.
At each of them you will wonder about what awaits you around the next corner, what is it that you are about to see, what colour will it be, what smell, how will you feel when you face its beauty. When your body gives you a reprieve and it seems like you can almost touch the finish line, you will meet the tie knot, a 360º turn that will turn the world on its head and there, at that moment when start seeing the world as it truly is, you will find the Serra de Tramuntana, divided by the water the courses through both of its halves before joining the mare nostrum.
Sa Calobra is considered a 'natural monument' by the Balearic Islands' Government, because its sand, its boulders, the blue of its sea, the openness and charm of Escorca and Sa Calobra turn this spot into a place of dreams.
Are you excited?