Have you ever been to the coastal town of Cala d'Or in Mallorca? Whether you are travelling for business or pleasure, one of the first tasks on arrival is to get from the airport to wherever you need to go. Arriving at the airport can be a relief after a long journey, but it's only the beginning of your trip. If you're looking for a quick and easy way to get to your destination, our airport taxi services to Cala d'Or are the best option. Not only is it the most convenient option, but also, with our taxi services you can save time and effort compared to public transport.
Cala d'Or, the best holiday destination
Cala d'Or is a tourist area that is divided into three neighbourhoods: the town centre, the Cala Ferrera neighbourhood and the Cala Egos neighbourhood. All of them offer a wide range of facilities and attractions, making it the perfect destination for the whole family. In particular, Santanyí's beaches and coves with turquoise waters are absolutely spectacular.
And if you're in search of something special, don't miss the natural swimming pool of Cala Egos. In addition, the Mondragó Natural Park is a wonderful place where you can go bird watching and connect with nature. There is no doubt that Cala d'Or has everything you need for an unforgettable holiday.
Origins of Cala D'or
The history of Cala d'Or is as captivating as its natural beauty. Known as "little Ibiza", this coastal area owes much of its fame to an Ibizan artist named Josep Costa. In 1930, he came to Mallorca and was amazed by an unspoilt place that became the perfect setting for his artistic projects and for meeting friends who were also artists.
It was then that he decided to buy a plot of land that until then had been inhabited only by pine trees, Mediterranean rocks and the crystal blue sea. In harmony with the beauty of the landscape, small white houses with arches and wooden beams were built. Thus Cala d'Or was born, a place where nature and art blend in perfect harmony. Don't miss out and visit this emblematic place. And if you have no means of transport, visit our website and request a taxi service from the airport to Cala d'Or.
Destinations with history in Cala d'Or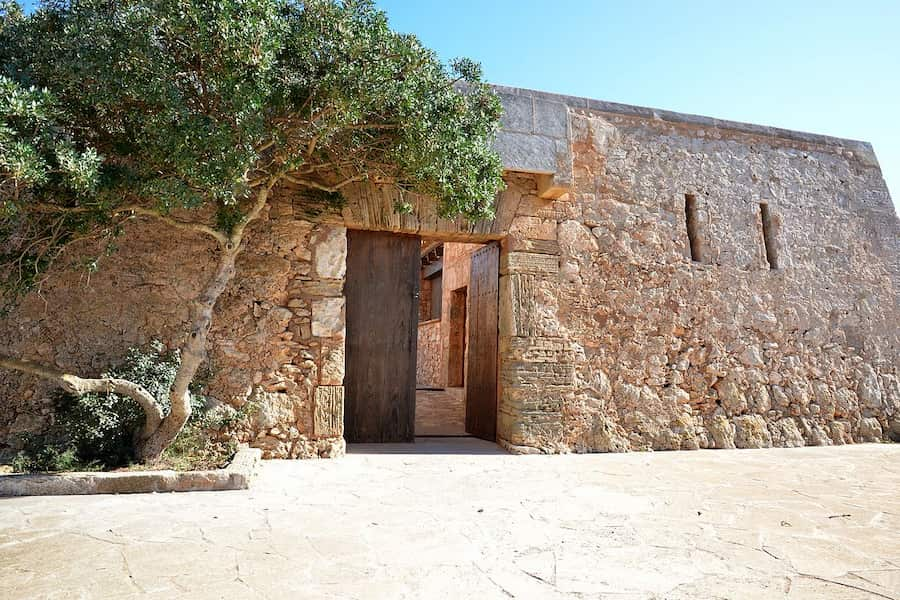 If you are a history lover, this island has a lot to offer you and our taxi service in Mallorca, a lot to contribute to get you to all these places. One of these must-sees is the Es Fortí Fortress in the Cala Egos neighbourhood. This structure was built in the 18th century and still has its original cannons. Its location is perfect for capturing the Mediterranean in all its splendour at sunset.
Also, if you're up for a hike, the Monastery of Sant Salvador is an incredible option. It is located more than 500 metres above sea level and offers breathtaking views of the Levante mountain range and the sea. Don't forget to stop by the Castell de Santueri, which is an ancient fortress in ruins that you can reach via a footpath. Enjoy the history and the views!
Wide variety of water sports
Cala d'Or is an area of Mallorca that offers a wide range of water sports. If you like the sea, here you can practice activities such as scuba diving, snorkelling, surfing or paddle surfing. You can also enjoy one of the most beautiful marinas in the Mediterranean, the natural harbour of Cala Llonga.
This harbour has numerous bars, restaurants and fashionable shops around it, making it a perfect place to stroll around and enjoy the maritime atmosphere. And if you want to enjoy the experience even more, you can take a boat trip or even rent a yacht. Come to Cala d'Or and discover all that this place has to offer.
Book a taxi from the airport to Cala d'Or and visit these beaches in the area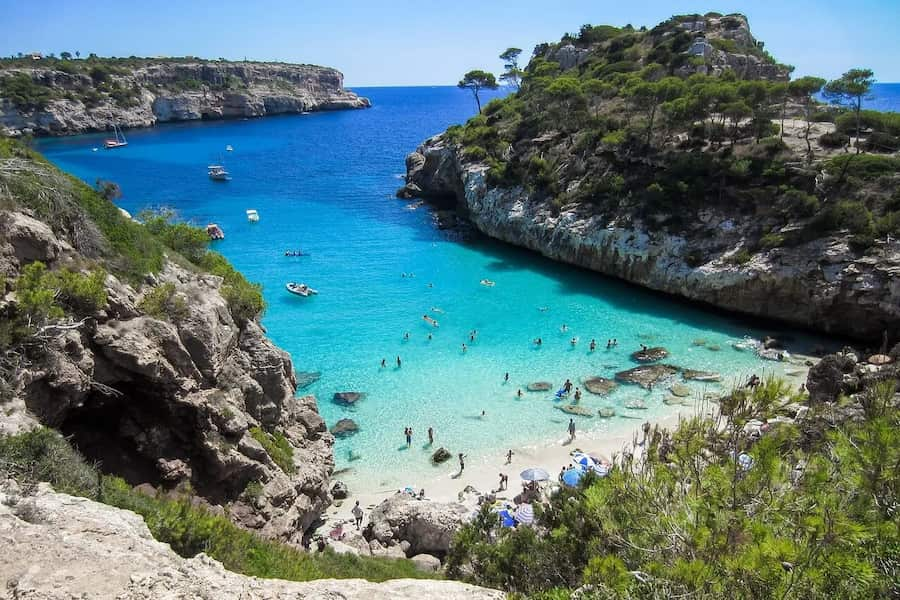 The area of Cala d'Or has many beaches to visit:
One of them is Cala Serena, which is perfect to go with children due to its soft sandy beach. The area is very urbanised and is accessed through the Robinson Club Cala Serena.
Another nearby beach is Cala Esmeralda, which is shaded by pine trees and is ideal for families with children. Moreover, its buildings are further away from the shore, which provides a greater sense of privacy.
Caló de ses Dones is a small but intimate beach, ideal for spending the day as a couple.
Finally, Cala Gran beach is one of the most visited beaches in the area, but it is still a good option for those who like beaches with a lively atmosphere.
With our taxi service in Mallorca you can explore all these destinations for a wonderful day at the beach.
Contact us today and book your taxi from the airport to Cala d'Or
With Mallorca Taxi Service, you can now forget about all the stress and hassle of taking a taxi in Mallorca to and from the airport. Contact us to book a taxi from the airport to Cala d'Or, no stress, what are you waiting for? Get going today and take a look at our prices and taxi fares in Mallorca. Plus, our unbeatable customer service will make your journey as stress-free as possible. Enjoy a carefree trip to one of the most beautiful places in Spain.