Puerto de Pollensa is located in a privileged location in the bay of Pollensa, in the north of the island of Mallorca. This locality is a favourite place for tourists looking to relax on the beach and enjoy the sun. It also has a wonderful marina that offers a wide variety of water activities and a promenade that will captivate you with its beautiful views. If you're looking to plan your holiday here, don't worry about how to get there. With our taxi service from the airport to Puerto Pollensa, you can get there safely and comfortably, so get ready for an amazing holiday!
Taxi from the airport to Puerto de Pollensa: what to see and do in this town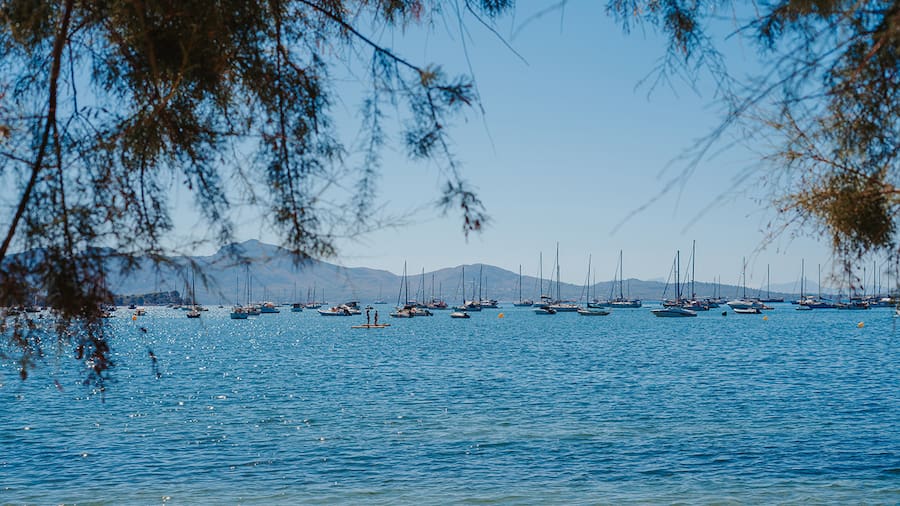 Now that the question of how to get from the airport to Puerto de Pollensa has been solved, it is time to find out what are the essential places to see in this unbeatable destination in Majorca. There is a wide range of water activities to enjoy in this resort town set in a large bay. But what makes this place unique are the numerous land-based activities that can be experienced thanks to its mountainous geography. Among the best plans we highlight the following:
Enjoying the beach of Puerto de Pollensa. Stretching for 1.5 km, this blue flag beach is a popular destination for beach lovers of all ages. As well as sunbathing, a dip in the sea, or simply strolling along its promenade, the beach of Puerto de Pollensa is ideal for surfing. If you are a sea lover, here you will find the perfect place to relax and enjoy nature without worries.
Visit the Club Náutico de Pollensa. Discover the beauty of the Port of Pollensa, where leisure boats mix with traditional fishing boats. It is a spectacle to see how both coexist in such a picturesque place. Furthermore, the Club Náutico de Pollensa is the ideal place for sea lovers. There you can do a variety of water activities, such as fishing, sailing and canoeing.
Remember that with our taxi service from the airport to Puerto de Pollensa, it is possible to reach this destination in a safe and easy way.
What to see in the area around Puerto de Pollensa
There are numerous places in the surrounding area that are a must if you are in Puerto de Pollensa. On this occasion, we will highlight these two:
Excursion to Cabo de Formentor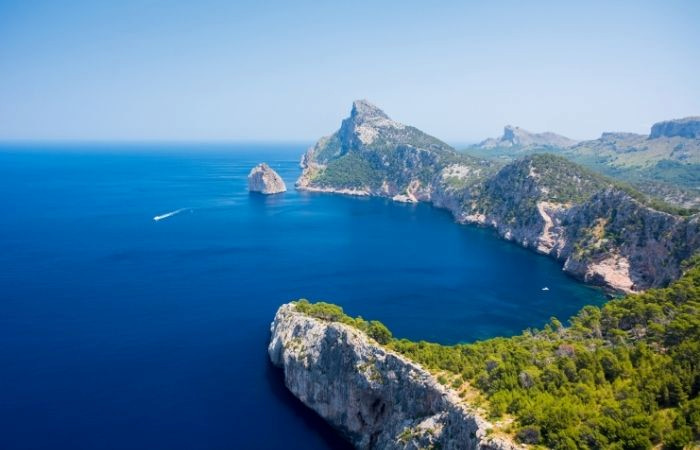 If you are a cycling enthusiast, Puerto de Pollensa is the perfect destination for you. Among the many fun activities you can do here, the route to Cabo de Formentor is a must. With its hairpin bends and dizzying climbs, this route has become legendary in the cycling world. But most impressive of all is the spectacular mountain scenery that accompanies the route.
Mirador de Es Colomer
The Puerto Pollensa experience would not be complete without exploring the stunning Tramuntana mountain range. With a wide variety of climbing levels, the peaks are a great attraction for adventure explorers. One of the most popular places to climb is La Creveta. Together with the interesting viewpoint of Es Colomer, it offers fabulous panoramic views during the trip.
There are countless ways to reach this destination. For the more adventurous, there are numerous incredible routes to take. However, it is also possible with our taxi service in Mallorca.
Taxi from the airport to Puerto de Pollensa: accommodation options
The good fortune of Puerto Pollensa lies in its strict building and town planning policy. Fortunately, the laws were passed before tall buildings were allowed to be built along the coast, which means that all the flats and hotels are low-rise. This feature creates an intimate and cosy atmosphere, which, in turn, keeps the large crowds and tour groups away. While the choice of accommodation in Puerto Pollensa may be limited, the hotels on offer are synonymous with high quality.
Taxi from the airport to Puerto de Pollensa with Mallorca Taxi Service
All in all, Puerto Pollensa is one of the best places in Mallorca for a relaxing holiday. With its dreamy beaches, lively nightlife and wide variety of activities on offer, not to mention its breathtaking views, it's easy to see why so many people consider this part of Mallorca their absolute favourite.
To make the most of this idyllic setting, plan your journey and opt for the airport taxi service to Puerto Pollensa with Mallorca Taxi Service. You can also choose us to take you to any other part of the island thanks to our taxi service in Mallorca. Finally, be sure to take lots of photographs of your stay, as they will serve as wonderful souvenirs of your visit when you leave the island – we hope you have fun discovering this Mediterranean paradise!