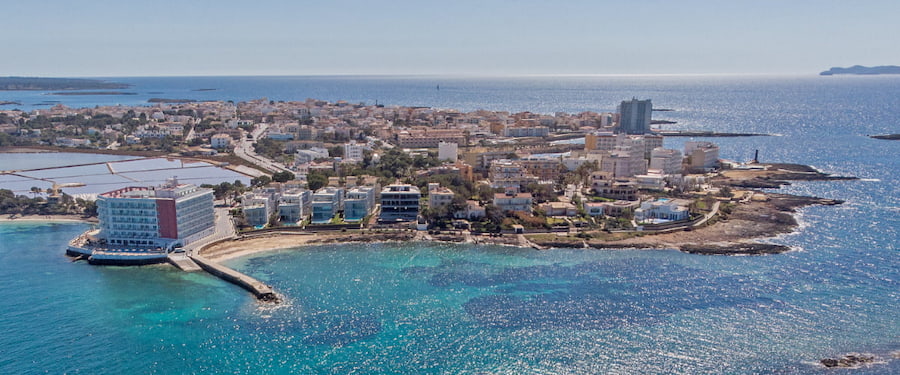 If you are planning to visit Colonia de Sant Jordi during your next holiday in Mallorca, you won't be disappointed! This town is known for its beautiful beaches and coves which are some of the best on the island. Plus, there are plenty of activities to do in the area, from enjoying water sports to exploring the local culture and delicious food. But first, you need to get there from the airport – don't worry! With our airport taxi service to Colonia de Sant Jordi, you'll be able to get to this town in the municipality of Las Salinas quickly and safely.
Taxi from the airport to Colonia de Sant Jordi: what to visit in this beautiful town
With its beautiful beaches and its essence of a fishing village, Colonia de Sant Jordi has a unique charm. Located on the southeastern tip of Mallorca, this small town has managed to preserve its traditional character and the authenticity that defines it. Its crystal clear waters and the beauty of its coastline have attracted tourists from all over the world in recent years, making Colonia Sant Jordi one of the most popular places on the Balearic island.
If you are looking for a quiet and beautiful place to relax in Majorca, don't miss this Mediterranean gem. Here are some of the best places of interest in and around Colonia Sant Jordi.
Es Trenc and other beaches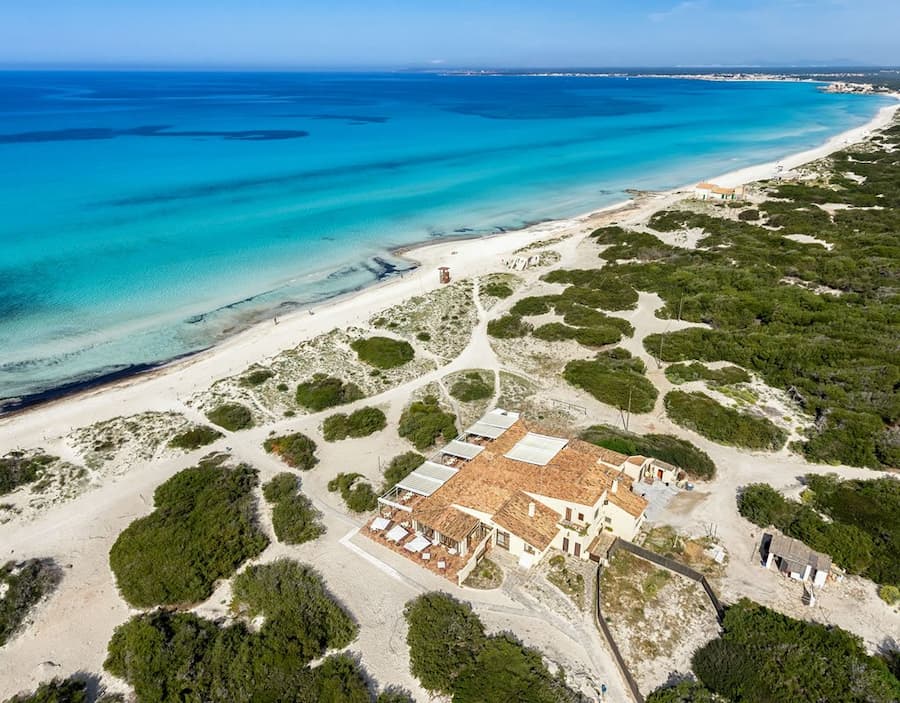 The beach of Es Trenc is simply breathtaking. With its large natural extension, surrounded by pine trees, it is the ideal place to escape from the hustle and bustle and enjoy the beauty of nature. The fine white sand and crystal clear water merge to create a spectacular sight. In fact, this beach is considered one of the best in Mallorca. Although it belongs to the municipality of Campos, it is accessible from Colonia de Sant Jordi.
Although Es Trenc beach is a very popular tourist attraction, we should not miss the other nearby beaches, as each one has its own personality and beauty. Among them are the beaches of Es Port, Es Dolç and Es Marqués.
Las salinas
Colonia Sant Jordi is a destination that never ceases to surprise. At its southeastern end, we find an expanse of meadows and fields that contrasts with the impressive Salinas de s'Avall salt flats. These salt flats, one of the oldest in the world, are a true natural spectacle and a historical testimony that deserves to be visited.
But there is more. The Llevant salt flats are another must-see destination. In beautiful surroundings full of nature, you will be able to spot flamingos at certain times of the year. Don't miss this impressive contrast between nature and history in Colonia de Sant Jordi. And remember, with our airport taxi service to Colonia de Sant Jordi you can get to this destination without any hassle.
Excursion to the island of Cabrera
Cabrera is a place that cannot be easily described. This small island has no inhabitants, but in the past it was used as a prison. Nowadays, boat trips depart from the marina of Colonia de Sant Jordi in Mallorca to visit this unspoilt natural place. Its spectacular beaches and amazing seabed make this island an ideal place for scuba diving.
There are many tourists who come to this locality to make the excursion to the island of Cabrera. If your location is different, don't forget that with our taxi service in Mallorca, you will be able to get to Colonia de Sant Jordi without any problems in order to arrive on time for the boat departure.
Taxi from the airport to Colonia de Sant Jordi: what to do and see
Colonia de Sant Jordi is a place with a lot of daytime activity and not so much nightlife, unlike Cala d'Or. It is ideal for those who enjoy outdoor activities such as hiking, cycling, water sports and exploring the area touristically.
The southeast coast of Mallorca has beautiful caves, coves, inlets, inlets and islets that will delight sailors, surfers and divers of all abilities. In addition, just three kilometres from Colonia de San Jordi is the Balneario de San Juan de la Fuente Santa, where you can enjoy the only natural thermal baths on the island.
Book your taxi from the airport to Colonia de Sant Jordi with Mallorca Taxi Service
To make the most of your visit, the best option is to book our taxi service from the airport to Colonia de Sant Jordi. With Mallorca Taxi Service, you will enjoy a stress-free journey in comfortable, modern vehicles with professional drivers who know the area very well. You can be sure that you will reach your destination quickly and safely from the airport or anywhere in Mallorca. With us, the service is guaranteed and so is your satisfaction! Finally, if you have any questions about our Mallorca airport transfer services or need more information, please do not hesitate to contact us.