Located in the north of Mallorca, Puerto de Alcudia is a destination that offers spectacular views and unique experiences. Whether you're looking for a relaxing beach holiday or an exciting adventure away from home, this sun-drenched location has something to offer every visitor. From stunning historical sites and picturesque landscapes to lively markets full of local treasures, there are plenty of attractions that make Alcudia so special! Here we'll tell you about some of the must-see places in this wonderful town, and if you need a taxi from the airport to Puerto de Alcudia, contact us and we'll take you to your destination.
Discovering Puerto de Alcudia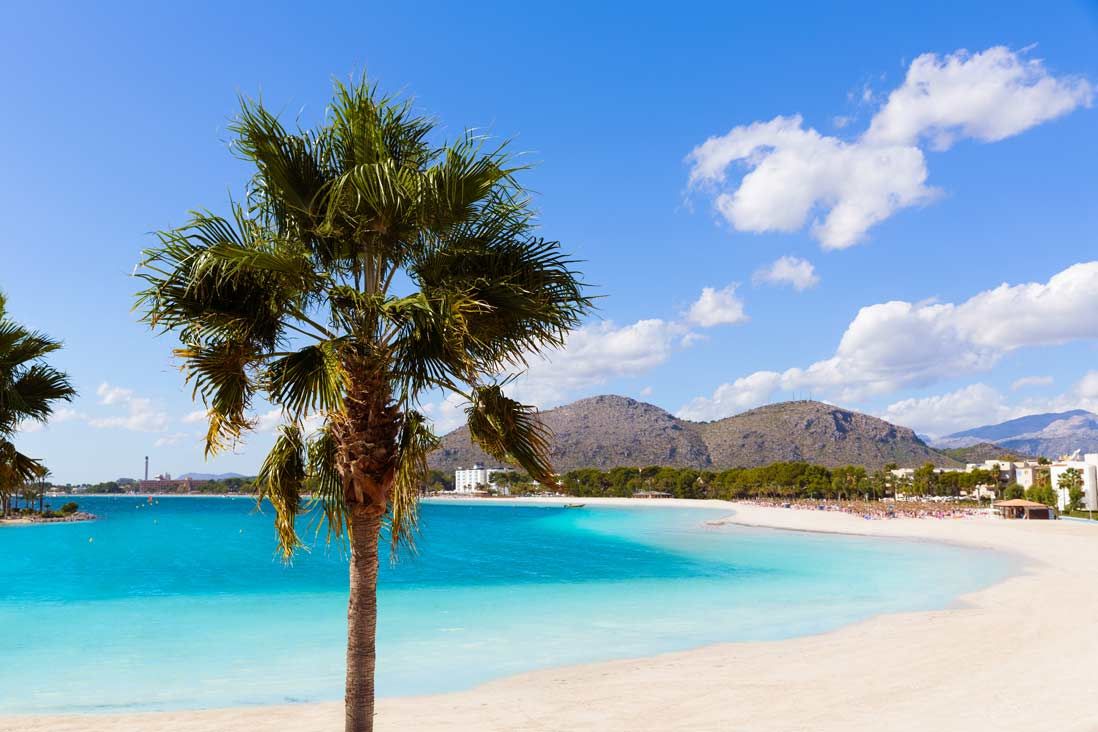 Puerto de Alcudia is an enviable historical corner that you can visit thanks to our taxi service in Mallorca. Since Roman times, this place has been highly valued, although it was also the site of pirate and corsair raids that endangered the residents. To solve this problem, Jaume II ordered the construction of walls to protect the town and prevent plundering.
These quadrangular walls were built at the beginning of the 14th century and were reinforced with 26 towers along a perimeter of 1.5 km and an average height of 6 metres. Today, these walls have undergone various transformations and restorations to reach their current state. Since 1974, they have been declared a Historic-Artistic Site together with the remains of the Roman city of Pol-lèntia, which makes this place even more attractive to visit. If you want to visit this incredible place and you need a taxi to pick you up at the airport of Mallorca, do not hesitate to call us.
What to see in its famous historic centre
If we walk through the historic centre of this city, we can admire some elements that will take our breath away. Some of them are:
The access gates to the walls are a true work of art, being the gate of Sant Sebastià one of the most beautiful that we will be able to contemplate.
We will also find the impressive Iglesia de Sant Jaume, which is a reconstruction of the old 14th century church that collapsed in 1870. Its spectacular chapel is a real treasure that will take us back to another era.
We cannot forget the famous Sala, which is the building that houses the Town Hall and was built in 1929.
We should also mention some of the stately houses or "casals" in Renaissance style that we can admire on our walk, such as Can Castell or Casa de Castell, Can Fondo, Can Can Canta, Can Domenec or Can Costa. In many of them we can see the family coat of arms of the owners on the outside, which shows the historical and cultural richness that we can find in this city.
Make a note of these destinations on your list of places you absolutely must visit. And if you have transport problems, don't hesitate to call us, as we have the best taxi service in Mallorca.
Parque natural de S'Albufera
El Parque natural de S'Albufera is one of the island's most valuable treasures. This place, protected and located very close to the tourist areas of Puerto de Alcudia and Can Picafort, is the perfect place to escape from the hustle and bustle of the city and enter an unparalleled natural environment. Although we are not alone, as the flora and fauna that live here are typical of the island. The park also offers a wide variety of attractions for the whole family.
To preserve its natural environment intact, we must walk from the car park of the S'Albufera Visitor Centre, and although this may seem a little uncomfortable, it is a worthwhile experience. Entry is free, but you need to ask for permission at the centre, and if you ask, they will also provide you with a map to guide you on the different routes available.
Getting a taxi in Mallorca will not be a challenge if you contact us. So don't think twice, and come and enjoy nature!
Visit Hidropark, located in Puerto de Alcudia
If you're planning a trip to Puerto de Alcudia, you can't miss a visit to Hidropark, a water park where fun is guaranteed. Whether you're travelling with family or friends, Hidropark offers a wide variety of attractions for all ages and tastes, from thrilling slides to calm pools to relax in.
There is also a dedicated area just for the little ones, with games and activities just for them. In addition, the park has a wide variety of restaurants and other areas to relax and enjoy the scenery. If you want to cool off in the Mallorcan sun, Hidropark is a perfect option – don't miss it!
Beaches in Alcudia that you can visit

If you are planning a holiday in Alcudia, you will surely want to enjoy the beautiful beaches in the area. With the help of our taxi service, you can visit some of the best beaches in the area, such as the stunning Alcudia Bay, with its crystal clear waters and soft white sand.
You can also visit the charming Playa de San Juan and San Pere, perfect for walking and enjoying its relaxed atmosphere. And we cannot fail to mention the stunning Playa de S'Illot, with its turquoise waters and spectacular reefs for snorkelling. With our taxi services from the airport to any location, you'll be able to move around without worry to make the most of your holiday in Alcudia.
Mallorca Taxi Service will take you anywhere you go
Puerto de Alcudia is the ideal holiday destination for nature lovers and beach lovers alike. There are plenty of historical sites, breathtaking scenery and fun activities to take part in. In addition, Mallorca Taxi Service makes it easy for you to get from the airport to your destination so that your journey can really begin. If you're looking for somewhere new and exciting to explore, let Puerto de Alcudia be your first choice! With its beautiful sunsets, relaxed atmosphere and variety of attractions, it's sure to have something to make every traveller smile, so if you need an airport taxi to Puerto de Alcudia contact us!