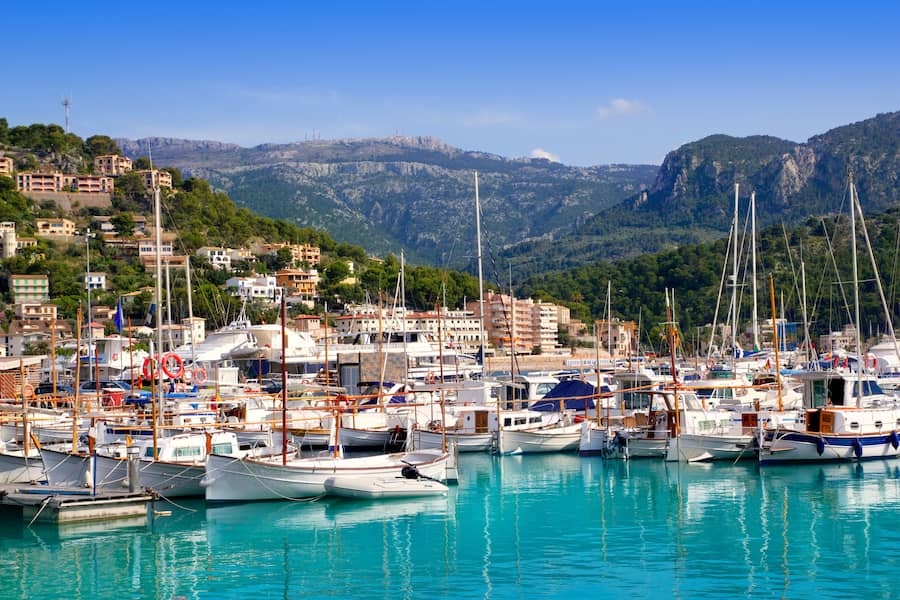 Getting from Palma de Mallorca airport to the picturesque town of Puerto de Sóller can be a somewhat complex and time-consuming experience, especially if you have to travel by public transport with all your luggage. However, there is a really easy way: our excellent taxi transfer service from the airport to Puerto de Sóller!
Not only will you have the peace of mind of knowing that you will arrive safely and comfortably at your holiday destination, but our taxis are equipped with the best features to ensure the best travel experience. Let us at Mallorca Taxi Service help you make your transfer to Puerto de Sóller a smooth one thanks to our experienced drivers.
In short, enjoy one of the best destinations on the island that enchants everyone who visits it for the first time. And, remember, if you need a taxi in Mallorca, contact us.
By taxi from the airport to Puerto de Sóller: what to see in this unmissable destination in Mallorca
Puerto de Sóller is a real treasure on the north coast of Mallorca. From its origins as a small fishing district, it has evolved to become one of the island's tourist jewels. The bay of the same name is the starting point for attractive sea excursions such as Sa Foradada, Sa Calobra, Tuent and the Torrent de Pareis. But what is most striking about Puerto de Sóller is its tranquillity and authenticity.
And once you've answered the question of how to get from the airport to Puerto de Sóller by taxi, it's time to discover some of the best places to visit in this wonderful Mallorcan town. Read on and discover all that Puerto de Sóller has to offer!
Playa d'en Repic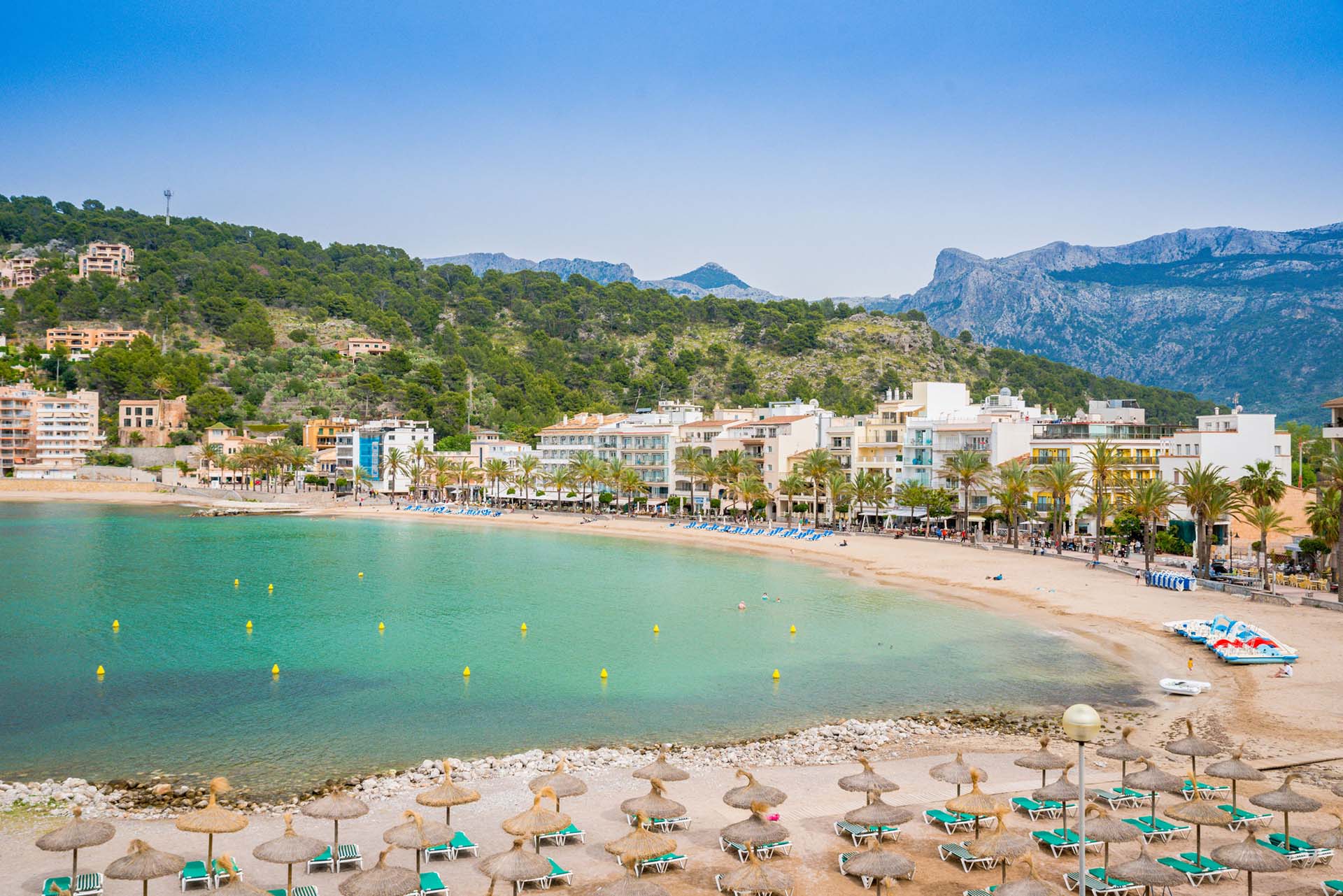 If you are looking for a place to enjoy the beach in Puerto de Sóller, you cannot miss the playa d'en Repic. This beach of fine sand and crystal clear water is ideal for the whole family to enjoy. Moreover, access to the water is quite easy thanks to the gentle slope. If you need any services, don't worry, because you will find everything from beach umbrellas to showers available at all times. You can also take advantage of the pedestrian promenade to visit the nearby restaurants and hotels. And if you want to take some souvenirs home with you, there are also souvenir shops to explore.
Museo del Mar
If you are visiting the Puerto of Sóller, don't miss the Museum of the Sea. This space has been renovated and is located in the old oratory of Santa Catalina. Here you can see old pieces related to fishing and trade, as well as documents and models of boats. You can also learn about the history of Sóller and its port in relation to the sea, with topics such as emigration and fishing dealt with in depth. Don't miss the panoramic views of the port and the coast from the Oratory.
Faro de Cabo Gros
Another of the best tourist attractions is the large Faro de Cabo Gros, which closes the bay from the west side. This lighthouse is accessible both on foot and by car, and although the road leading to it is a little narrow and has some bends, it is easy to get around. Reaching the viewpoint is quite an experience: you have panoramic views of the Bay of Sóller and the port.
Another option to reach this destination is to book a taxi. Our services not only include a taxi transfer from the airport to the Port of Sóller, but also to any other point in Mallorca.
Travel on the historic tramway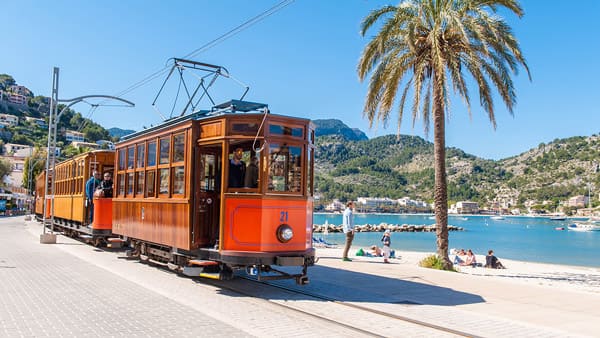 Undoubtedly the biggest attraction in this area is the century-old tramway. Thousands of people board its picturesque orange-coloured wooden carriages every year to travel the route between Sóller and the port. For half an hour, you can enjoy breathtaking views of the Tramuntana mountain range. In addition, the tram makes several stops along the way so you can get off and enjoy the pedestrian promenade and the seaside area.
By taxi from the airport to the Port of Sóller with Mallorca Taxi Service
All in all, Puerto de Sóller is a truly wonderful place for anyone who appreciates nature and wants to enjoy the beauty of the Mediterranean Sea. It is relaxing, inspiring and fun all at the same time.
And with Mallorca Taxi Service, you can be sure that your transport needs to and from the airport will be taken care of easily, comfortably and reliably. Check out our taxi service rates from the airport to Puerto de Sóller on our website. And, of course, if you need a taxi in Mallorca for any other destination, you can also contact us! What are you waiting for? Get ready to enjoy all that Puerto de Sóller has to offers and make the most of its breathtaking views! Don't forget your camera!