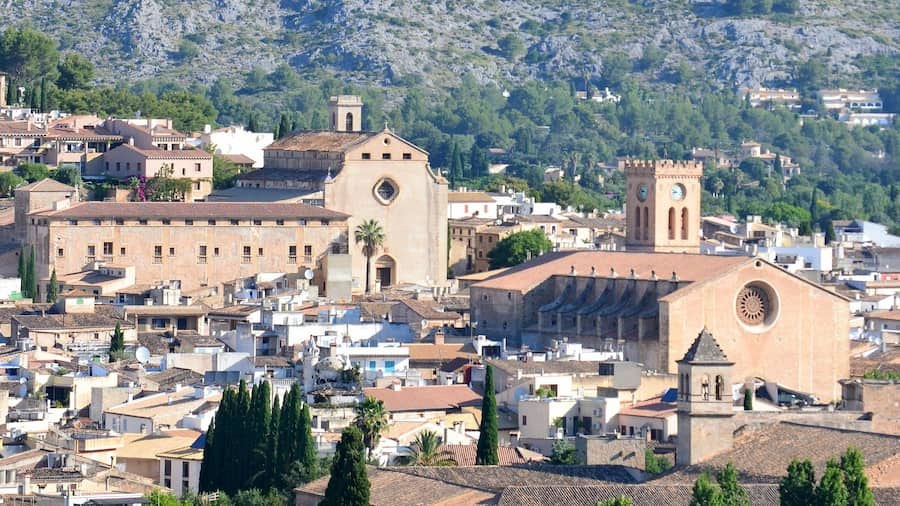 Are you planning a holiday in the municipality of Pollensa in Spain? If so, finding a taxi from the airport to Pollensa town is probably one of your top priorities. Taking a taxi from Mallorca airport may be the best option to reach your destination quickly during your holiday. With our Mallorca taxi service we will cover everything from understanding how much it costs, what kind of car services are available, taxi fares from Mallorca airport and much more, all with the aim of making your journey easier and stress free. Read on to get all the information you need.
Taxi from the airport to Pollensa town: places of interest
Here are the most important aspects you should know about Pollensa town.
What to see in Pollensa town?
If you are looking for a charming destination, Pollensa is the perfect place for you. The charm of its natural surroundings and the beauty of its stone streets invite you to lose yourself in them. If you want to make the most of your stay in this town, we recommend you to visit some places that you cannot miss. Remember that if you don't have a car you can count on our taxi service in Mallorca.
El Calvari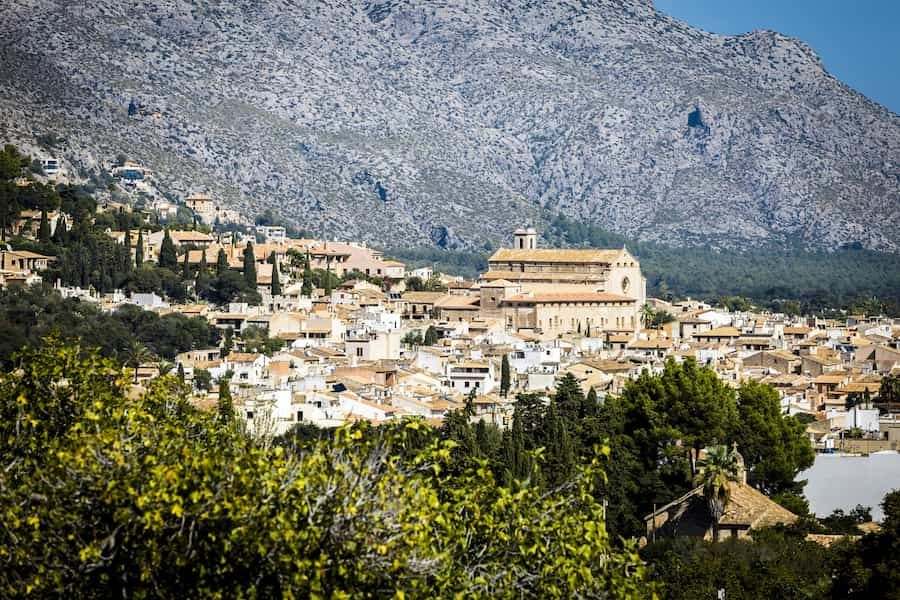 El Calvario is a must-see in Pollensa and the walk up to it is an experience in itself. The 365 steps leading up to the top represent every day of the year, and the ascent is an opportunity to enjoy the atmosphere of this beautiful town.
As you climb, you will see cypress trees, sculptures and traditional houses, as well as charming shops that will make you feel at home. Also, don't miss it, the panoramic view of Pollensa is incredible! It's a unique experience you won't want to miss. And if you don't want to walk, no problem! You can reach the top by car and enjoy the wonderful views from up there. El Calvari is definitely one of the best places to visit in Pollensa.
The Sunday market in the Plaza Mayor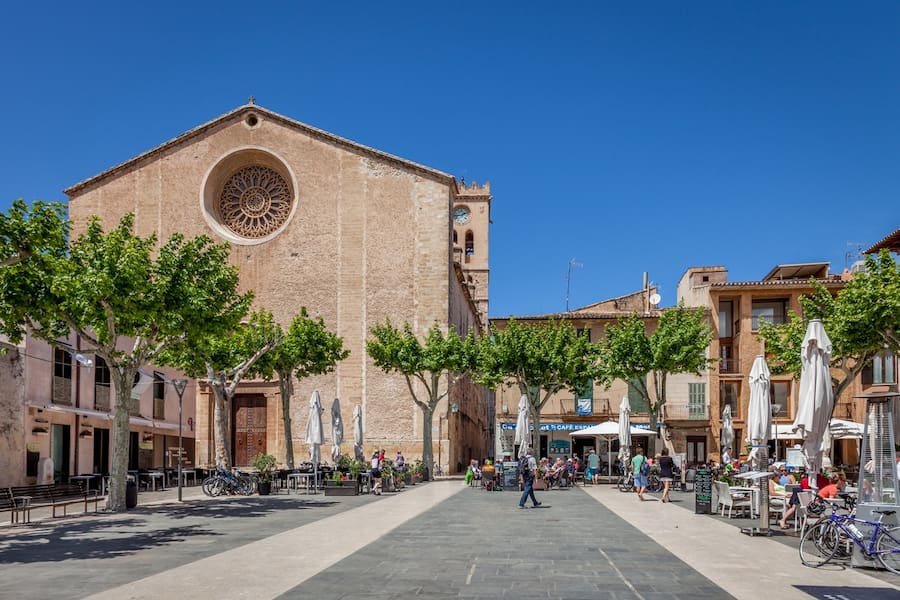 The Plaça Major is the heart of life in Pollensa. This place is where people gather to eat, have a drink and do some shopping. In addition, this square is home to the parish church Madre de Dios de los Ángeles. But the most important event that takes place here happens every Sunday, when the square is transformed into a huge market.
If you have the chance to visit Pollensa town on a Sunday, don't miss this market. Spread throughout the streets surrounding the Plaza Mayor, which means there is something for everyone at this impressive market, there is no other way to immerse yourself in the culture of Pollensa than by visiting this market!
The Museum of Pollença and the Convent of Santo Domingo
The Convent of Santo Domingo and the Museum of Pollensa are two places not to be missed if you are visiting this Mallorcan town. One of the highlights of the convent is its impressive cloister, where different cultural events take place, such as concerts and music festivals.
Also, inside the building is the Museum of Pollensa, which houses an interesting collection of paintings and archaeological pieces. Best of all, admission is free and you can visit it from 10 am onwards. If you want to enjoy the history and culture of Pollensa, this is one of the places you can't miss.
What else can you see in Pollensa town?
In the town of Pollensa, there is much more to see apart from the main tourist attractions mentioned above. If you take the time to stroll around the town, you will find several places with an impressive history behind them.
For example, the Plaza de l'Almoina, the Plaza Vella i Ca'n Llobera, the Oratorio de Sant Jordi and La Font del lleó are just some of the sites worth exploring. Enjoy the charm that has always attracted visitors from all over the world to this island.
What can we find in the area around Pollensa village?
The surroundings of Pollensa are wonderful and offer a wealth of places to explore. However, there are certain corners that stand out for their beauty and that you should not miss.
One of them is Cala San Vicente, where you can enjoy its impressive coves with crystal clear waters, especially Cala Barques.
There is also Puerto Pollensa, which offers the opportunity to take an exciting excursion to Cala Bóquer, a small wild beach ideal for swimming, snorkelling and enjoying the tranquillity.
Finally, we cannot forget the impressive Cabo de Formentor, which boasts spectacular views, mountains, beaches, coves and a lighthouse that is the most impressive in Mallorca.
Undoubtedly, these three essential places will give you unique and unforgettable moments during your stay in Mallorca.
Book a taxi from Pollensa airport to Pollensa town today
With its stunning beaches, magical mountain scenery and unique Mediterranean villages, Pollensa is the perfect place for your next holiday. And with our taxi service in Mallorca, you can be sure of a smooth journey from the airport to your destination – what are you waiting for? Check out our rates and book a taxi from the airport to Pollensa today. Whether you're looking for a direct arrival or an adventure, with our taxi service in Mallorca it's never been easier.