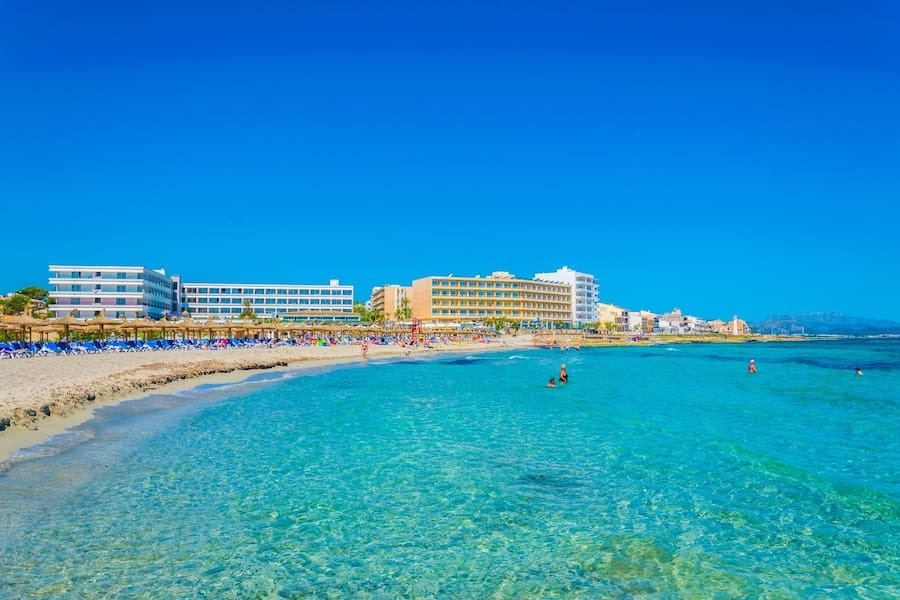 Are you ready to explore one of the most beautiful areas of Mallorca on your next holiday? Can Picafort is the perfect destination for travellers looking for a little adventure and a lot of relaxation, and we're here to make sure you get from the airport to your final destination as quickly and comfortably as possible. We offer first class taxi services in Mallorca from any location on the island to airport taxi services to Can Picafort, making it easy and convenient for you to get to your destination. Whether you are travelling alone, with family or friends, our reliable taxis guarantee fast transport so you can enjoy a carefree journey from the very first moment.
What is the beach of Can Picafort like?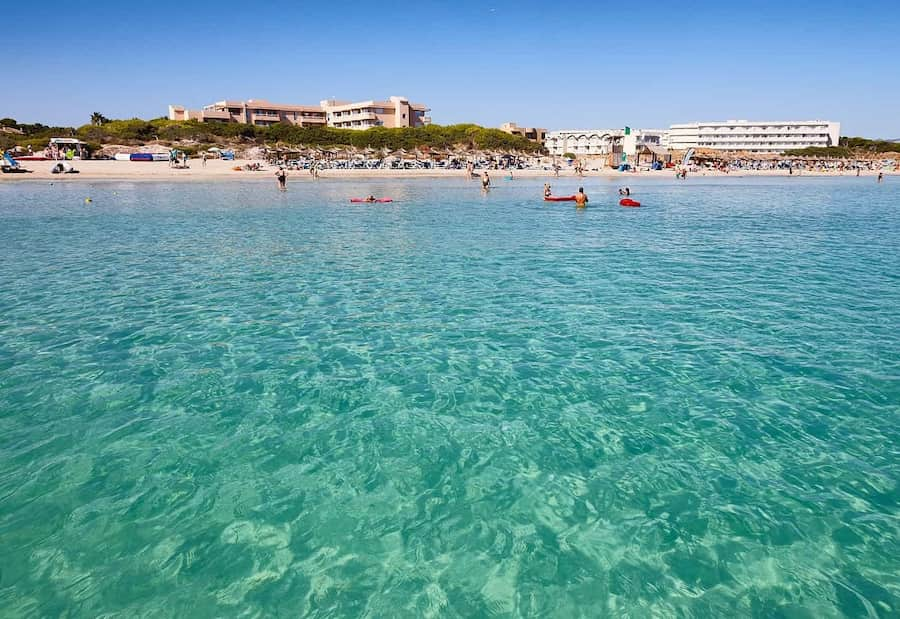 Are you looking for a place to enjoy the sun and the sea in a peaceful and welcoming environment? Can Picafort is your ideal destination! Its fine white sand invites you to relax and sunbathe while the moderate waves refresh you. It also has all the necessary services and facilities to make your stay as comfortable as possible.
It is also accessible for people with disabilities on the stretch along the promenade, which is the real heart of Can Picafort. Visiting the terraces that are located here is a wonderful experience that allows you to watch the comings and goings of the people who gather here, especially during the sunsets. And if you don't have a car and can't get to this corner of the island, contact us and book a taxi to Can Picafort.
Can Picafort, municipality of Santa Margalida
Can Picafort is located in the municipality of Santa Margalida, a town with roots dating back to the 13th-15th century. This place owes its name to the dedication of Santa Margarita, dedicated to the church built in the farmhouse of Hiachat or Yach.
One of the most picturesque corners is the space located on the esplanade of the Parish Church. The view from there is incredible: you can see the wide cultivated plains that make up the beautiful landscape that surrounds the municipality. Can Picafort is a favourite tourist spot for those in search of nature and Spanish history. If you don't have any means of transport booked, call us and we will inform you about the taxi prices from the airport to Can Picafort.
Visit the Can Picafort market
If you are looking for an authentic experience in Can Picafort, a visit to the Can Picafort market is a must. Immerse yourself in the local atmosphere and discover island life at first hand. This traditional market takes place every Friday from 9:00 to 14:00 along Isaac Peral street and offers a variety of stalls with fresh local fruit and vegetables, clothes, shoes and much more.
Although much quieter in winter, the market is still a fantastic option for sampling the local culture and socialising with the locals. Don't miss this unique opportunity to explore Can Picafort in depth.
Places of cultural interest to go from the airport to Can Picafort by taxi
We offer you the best taxi service from the airport to Can Picafort to visit some of the most emblematic and interesting places in the area.
What to do near Can Picafort?
Located on the north coast of Mallorca, Can Picafort is a beautiful village that offers a relaxed atmosphere and a great diversity of activities. If you are a lover of sun and beach, you cannot miss its impressive stretches of fine sand. But if you prefer adventure, you can also enjoy a wide variety of water sports, such as kitesurfing and windsurfing. In addition, with our taxi service in Mallorca you can visit the following destinations:
The best route through the Necropolis of Son Real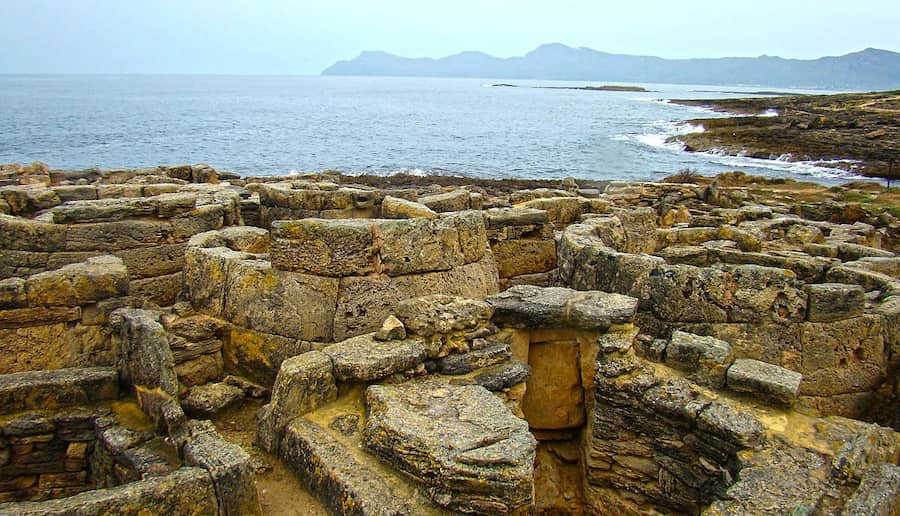 The Finca de Son Real is a real treasure located between Can Picadfort and Son Serra de Marina, in the municipality of Santa Margalida. Here, organic farming and the breeding of animals native to the Balearic Islands are the main activities. But that is not all this estate has to offer.
From the beautiful unspoilt coastline of unique beauty to the impressive Necropolis of Son Real, this is a place you won't want to miss. If you want to visit the necropolis, you can do so by taking a short walk along the coast, where you can see the tombs and houses of Son Real. If you have time and energy, you can go as far as the village of Es Figueral.
In short, La Finca de Son Real is one of the most special places to explore the rich history and natural beauty of Mallorca.
Enjoy a wine tasting at the Butxet Winery
Looking for a unique activity to do in Can Picafort? Visit the Butxet winery for a wine tasting! Although the area is not known for wine making, you will find a charming little family-run bodega in the hills between Muro and Can Picafort.
The Butxet bodega offers wine tastings and tours of the bodega. Don't miss the chance to try their award-winning cabernet sauvignon and discover what makes the wine from this area so smooth – an experience you'll remember forever!
Count on us and order a taxi from the airport to Can Picafort today
Need a lift from the airport to Can Picafort? Mallorca Taxi Service is your best option! Our taxi services in Mallorca offer comfortable journeys and taxi fares, so whether you are visiting Can Picafort for the first time or returning for a visit, we will make sure your journey is comfortable and safe. Our drivers are well trained and know all the routes to reach this destination. Book a taxi at Mallorca airport and forget about the hassle. Plus, with our Mallorca airport taxi fares, you'll save while experiencing top-notch services on your trip to Can Picafort – call us and get ready to explore this amazing place in Mallorca!